Crater of Diamonds State Park
Current Status: open every day
CRATER OF DIAMONDS State Park is one of the few parks in the country that caters to rockhounds! And the only site where you can pay a small fee and keep any diamond and other lapidary materials you collect in the world.
Geology of the Crater of Diamonds


Around 100 million years ago, the lazy southern coastline in what is now central Pike County, AR, suddenly exploded, creating a crater some 80 acres in size. After this eruption, small pyroclastic cones developed in the crater and spewed out ash and lapilli (small molten rock fragments), in the photo.



Some of the ash mixed with sediments from the adjacent Trinity Formation, forming lake sediments on the east margin of the crater and at scattered sites across the depression. Then came a magma from deep in the earth, filling part of the depression with a lava lake. This sequence of events took awhile, but only a wink of an eye in geologic time.
A diamond storehouse
The lamproite breccia tuff that formed in the explosion carried diamonds from deep in the earth (in the upper mantle) and rapidly brought these crystals to the surface. Although the lamproite magma originated from the same depth, it moved slowly enough for the magma to resorb the diamonds. Hence, it is not considered a source of diamonds at the site, either in the rock or the soil developed from it. Recent exploration demonstrated that there are some 78.5 million tons of diamond-bearing rock to sort through, so it will be awhile before the tourists and rockhounds deplete this diamond storehouse!
Since the diamond-bearing pipe and the adjoining area became a state park in 1972, over 21,000 diamonds have been recovered. The Park Museum has a series of educational displays and a slide presentation for first-time visitors. They also rent screens and a variety of small digging and scratching tools to assist the visitor in finding a diamond. You may also bring in your own equipment, on the condition you carry it out that night. No wheeled equipment is allowed.
If you only have a short time to visit, an afternoon or so, your best chance to find a diamond is by either surface searching or, if it is dry, then by surface screening. Dry dirt does not stick to a diamond, so it will be loose in the soil. Once you know what a diamond crystal looks like, you can sort out the various bits of calcite, barite, quartz crystals, and fragments of broken glass that you will find on your screen. Don't be fooled by the many tiny flakes of sparkly mica (phlogopite) that seem to be everywhere. The site is collected by local professional collectors, who spend a lot of time washing and screening gravels to recover diamonds. Although tourists only find a diamond for every 100 hours of searching, it is encouraging that the tourists typically find the larger stones. You can help your odds if you can visit immediately after a heavy rain. Rain exposes diamonds in the soil.
From "Ask Mikey" Q. A few years ago I visited the Diamond mine "state park". I was told that there are some geological hints to the presence of diamonds in a particular part of the mine. The person told me to look for a few other minerals that are usually present with diamonds as a way to help me decide where to dig. I dont remember what they were. Do you know of any way to decide the best place to dig based on the minerals or things present... or was this just a way for the park people to give me "hope"? Thanks, Karen
A. If you are screening and get a lot of spinel (opaque black shiny grains) or pink garnet, then you would be in an area that had an unusually large concentration of heavy minerals. Since diamond is a heavy mineral, then your odds of finding one would be much better. How do you find such a spot? Look carefully at the general slope of the ground to find a place where the slope changes from a relatively steeper gradient to more gentle. At that break, small alluvial fans of heavy minerals will be deposited. Dig your material for screening from the upper end of the alluvial fan.
This classic collecting site is written up by both the Arkansas Geological Survey in a free pamphlet (Finding diamonds in Arkansas!) and in an article by Dr. Al Kidwell in the Mineralogical Record (1990, May-June). Check your local library to see if they take the Mineralogical Record. If you ever visit Washington, D.C., you will find a display of several uncut Arkansas diamonds in the Hall of Gems in the Natural History Museum of the National Museum (Smithsonian). These stones were part of the Roebling collection.
View of the collecting area, showing the old mine shack and sluice.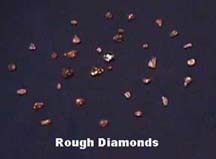 See the display of rough diamonds at the visitor center, to know what you are looking for before you go out into the field.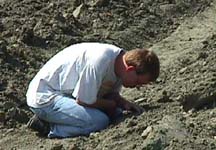 Sometimes getting close the ground is a good way to search the area. If the weather is such that a recent heavy rain has occured and now the sun is out, you might have better luck just walking around and looking for "sparkles".

Don't be fooled by the many tiny flakes of sparkly mica (phlogopite) that seem to be everywhere, as well as broken coke bottles, chunks of calcite, and other tricky imposters. Remember, these diamond crystals are small!

The park keeps a scoreboard of finds, and although the professional collectors get most of the stones, the tourists are the ones who usually find the biggest ones! We can't stress enough that you have to know what you are looking for when you hunt for diamonds. If you are expecting to find a brilliant cut stone like in a ring, that's not what is out there.

A very rare and perfect diamond has come back to where it was found. Originally weighing 3.03 carats uncut, the diamond was unearthed by Shirley Strawn, local Murfreesboro resident, in 1990. After it was cut by Lazare Kaplan International of New York in 1998, it weighs 1.09 carats. It was then sent to Peter Yantzer, laboratory director of the American Gem Society, and was discovered to grade D-flawless, 0/0/0 (cut, color, clarity). Yanter stated "this diamond is one in a billion." The Arkansas Department of Parks and Tourism purchased the stone for $34,500, using part grant money and part private donations. This stone will be displayed in a special case in the Park's Museum and may occasionally be part of a traveling display. The stone is mounted in a specially designed ring composed of pure platinum and gold (24 Kt). We think it is wonderful that this exceptional diamond will be available for future generations to see and appreciate. Our thanks to both the Parks and Tourism Department and the Strawn's for doing this for all Arkansawyers and tourists everywhere!